Insights|
A vital industry facing sharply increased pressure for digital modernisation
The COVID-19 pandemic has accelerated developments in the healthcare industry, one of the world's largest markets which has traditionally been slow to adopt the technological and digital innovations that have revolutionised other sectors. Our investment team is excited about the future of healthcare and staying close to companies trying to achieve the required modernisation.
Over the past 10 years, investors have deployed more than USD40 billion into healthtech in an attempt to drive change in the healthcare ecosystem which, compared to other industries, has been left behind as a result of complex incentives and structural roadblocks.
Despite the amount of investment over the past few years, there have been no significant material innovations that have disrupted the way healthcare stakeholders experience and interact with the ecosystem. The reasons behind this comparative lack of modernisation within healthcare should be seen through the lens of the incentives of the different players within healthcare. Hospitals have traditionally operated at large scale but their underlying profitability of close to 2 per cent has resulted in relative technological stagnation. Setting aside the change-averse culture that permeates healthcare systems, start-ups trying to sell to them need to balance cost, efficiency and meaningfully disruptive product innovation for healthcare providers to take notice.
In addition, technologies that improve patient outcomes require the alignment of different healthcare providers. However, those providers do not share the same incentives, so any company trying to make an impact on patient outcomes also needs to alter provider behaviour meaningfully.
Overcoming these challenges still leaves companies having to convince end-consumers of their value proposition. This has historically been a tough sell with engagement metrics such as repeat rates and net retention being an order of magnitude lower compared to traditional SaaS businesses. Finally, any company strategy needs to be aligned with and adaptive to regulatory changes which have a ripple effect within the ecosystem.
We believe that COVID-19 has structurally altered the mindset of the different stakeholders within the healthcare ecosystem. We are still in the early phases of this push towards modernisation but the signs are here.
The healthcare industry has been a frequent target for Lakestar which made an early investment in Oscar Health, a US company which aims to use disruptive technology to redefine the consumer experience by simplifying its patient-charging structures. It also introduced several innovative benefits such as unlimited free telephone consultations and free annual physicals for all customers. Oscar's healthcare system can be accessed through concierge teams who find doctors for its patients and help manage chronic conditions by using the Oscar app or online. It also uses patient data to make continuous improvements to the quality of its services.
The company has grown steadily since opening for business in 2013, extending its operations into new regions and cities and signing up new doctors and physicians who like what they see as a more attractive business model. Lakestar's investment team has also learnt much about the complexities of the US healthcare system which include often strange relationships between hospitals and professionals, perverse incentives which lead to higher costs for patients, and infrastructure weaknesses that fail to move patients through the system smoothly and profitably.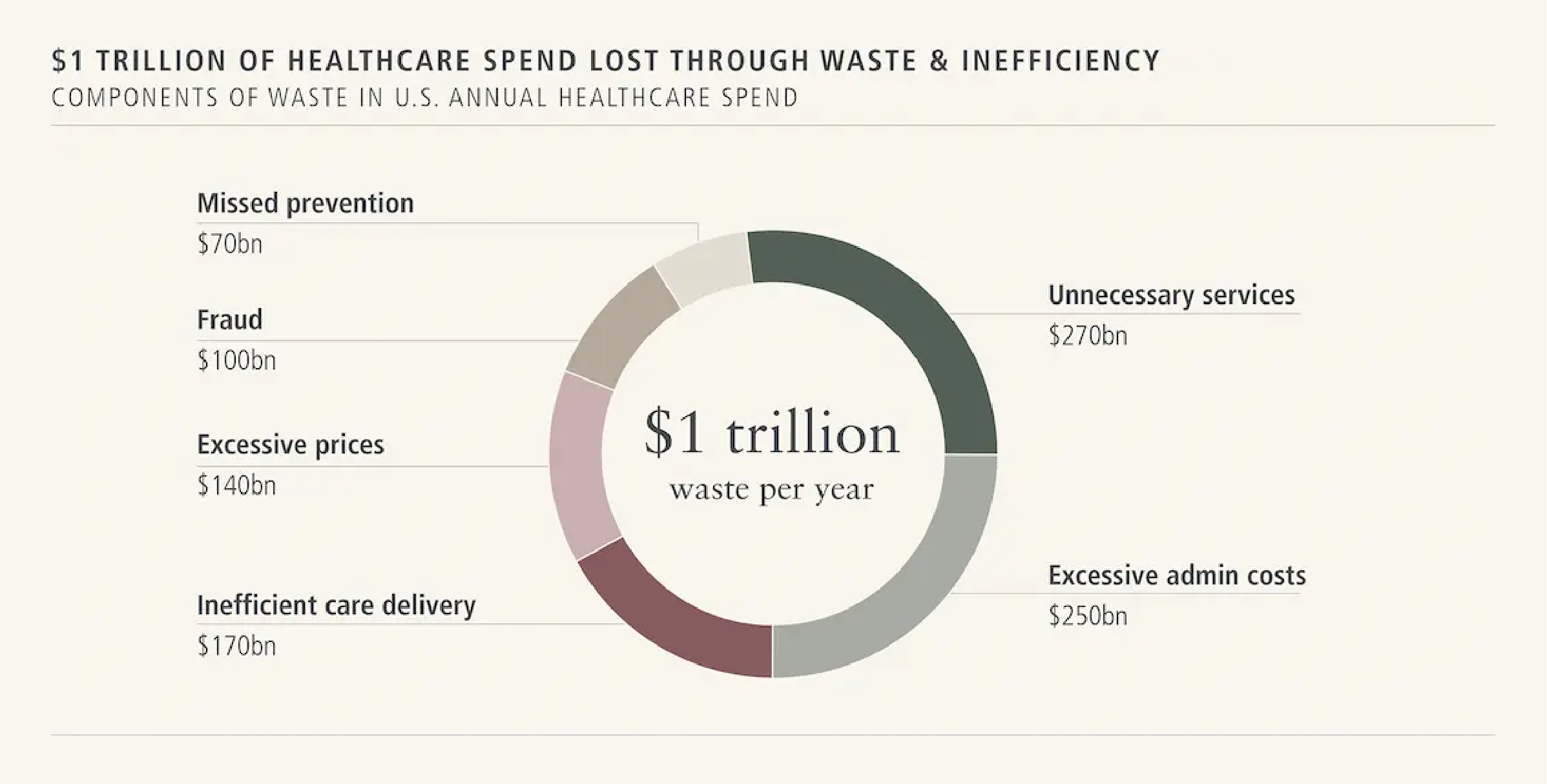 A subsequent Lakestar investment was in Cedar Health, another US company which has tackled the billing systems for conventional medical treatment. These can be alarmingly confusing – even for a single course of hospital treatment. Cedar found that the complexities were a significant factor in the non-payment of medical bills, a major contributor to bad credit scores in the US. The company looked at large online businesses such as Expedia, Amazon and Netflix and found that they had much more efficient approaches to payment collection, such as making their bills understandable by replacing codes and Latin words with everyday English.
Lakestar believes that such healthcare systems are evolving in three important ways:
One is responding to the increased demand for better services through digital medicine where low-hanging fruit includes enhanced triage, contact tracing and virtual health assistants which can provide care and diagnostic tests remotely.
The second is workforce management to ensure that doctors and other professionals can use their time effectively through faster tech innovations such as enhanced doctor/patient communication systems and improved data interoperability.
And the third is upgrading infrastructure with increased emphasis on workforce management techniques that hire better staff, retain the best performers and create collaborative team-care
Many of these approaches have been talked about for years, but COVID-19 has led companies to accelerate progress in order to unlock the benefits of modernisation. Lakestar has summarised the changes in four key theses: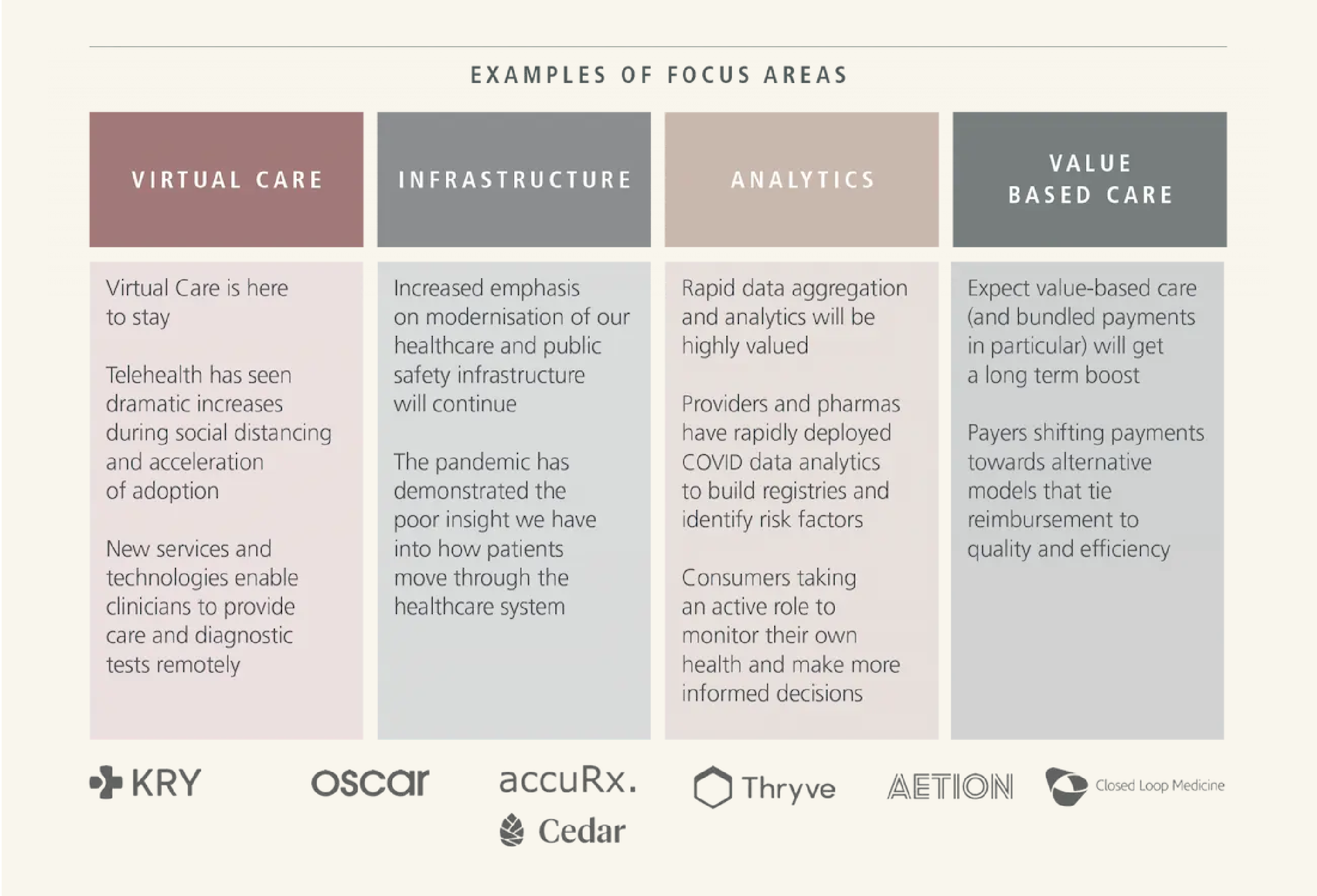 Virtual care can ensure that professionals have fast and reliable access to new services and technologies. There will be no need to wait in a hospital for a ten-minute check-up in a virtual waiting-room that patients hate.
Infrastructure modernisation will ensure that patients flow smoothly through the healthcare system and that emergency systems do not become overloaded. It requires significantly better communications between patients and professionals to achieve the best outcomes.
Analytics should aggregate data rapidly and then analyse it to develop the drugs and procedures that can optimise treatments. The US has a head-start in this, but European companies are starting to build up their analytics capabilities, which is helpful for clinicians but also allows patients to unlock tools that help them to monitor their own health and make more informed decisions about it.
Value-based care can bring together virtual care, infrastructure and analytics to help companies move to results-based treatment which strengthens incentives to choose optimal clinical results rather than just encouraging many more costly procedures.
A telling example of the perverse incentives inherent in the US healthcare system is the regulatory requirement that insurance firms must limit their margins to a maximum of 20 per cent. This may appear to be a rational strategy to reduce overcharging on premiums, but it leaves them free to charge up to 20 per cent on USD1,000, which can increase their charges year by year. This is in contrast to Oscar Health which owns the entire infrastructure of its healthcare system and can save customers large amounts by using its analytics capabilities to identify inflationary pressures and direct patients to doctors whose results do not inflate the costs inherent in the margin rule.
Changes in regulation can have favourable consequences for many aspects of digital health, particularly in Europe where they can be genuine catalysts for growth and change.
Emerging regulatory changes in Germany allow doctors to prescribe digital apps with health benefits that can be reimbursed through its health insurance system. Another reform has legalised remote medical treatments in Germany by lifting a ban on advertising them in 2019. The UK is also opening up new public/private partnerships with digital first providers, while its long-term healthcare plan will give patients the right to digital healthcare by 2023–24. Similar moves are extending the roll-out of nationwide-prescriptions in France and Germany.
Critics often say that regulatory changes which bring in new charges are rip-offs, but they should be seen as a response to the healthcare crisis which saves patients having to make lengthy and expensive trips to hospitals. They also provide incentives for doctors to adopt such practices and create fundamental changes that are incredibly important for healthcare innovation in the era of COVID-19.
There are important lessons that potential investors can learn from such developments. They must be prepared to make investments that look very different from traditional SaaS businesses by eliminating the underlying complexity and unpredictability of the healthcare system.
Finally, it is not enough to analyse the traction behind medical developments. It is important to view companies within the healthcare industry as part of a system which analyses regulatory tailwinds together with product development decisions, unit economics and go-to-market strategy. These need to be considered together in order to ensure alignment between the value proposition and the architecture of companies.
In drawing up these theses, we have spoken to many healthcare companies in the past few months. Using these interactions, we are hoping that new investments will accelerate the innovation necessary to satisfy the increasing demand for healthcare modernisation.
This article is part of the Lakestar Briefing, a periodical publication about Lakestar's portfolio companies and our network of inspiring minds we like to work with.