Insights|
Recovery planning for travel tech companies based on real-time mobility tracking
The COVID-19 pandemic has brought the need to understand human mobility in realtime to the fore. This is primarily important for health authorities, for example in assessing the impact of social distancing measures, whilst human mobility trends will also help to evaluate the economic impact of the pandemic.
But there is a further industry that can source major potential from mobility tracking and analysing – travel tech. This is especially relevant as the travel sector has suffered immensely due to the impacts of the necessary COVID-19 restrictions and global countrywide lockdowns.

Teralytics uses advanced machine learning to arrive at an up-to-date understanding of how daily mobility patterns may be changing, using accurate, inclusive and current indicator of people's mobility – mobile signals. This will drive and support the recovery planning for travel tech companies as the technology offers an immediate understanding of how people are traveling and how patterns are changing, 24/7.
Travel tech companies can benefit from the following data:
Understand daily changes to traffic flows and movement
Evaluate how short-term restrictive measures may impact on long-term mobility behaviours
Enable accurate revenue forecasting
Country-specific analysis
Development of domestic travel
Adjust timetable and capacity
Track the recovery
In a virtual panel, Teralytics, HV Holtzbrinck Ventures, Morgan Stanley and Lakestar looked at the mobility curve and results of different European countries.
Thanks for the lively discussion and sharing your expertise with the webinar hosts Christoph Schuh from Lakestar and Christian Saller from HV and the participants Ottokar Rosenberger at Dreamlines, Jochen Engert at Flixbus, Johannes Reck at GetYourGuide, Patrick Andrae and Wolfgang Heigl from HomeToGo, Ben Stephenson from Impala, Josef Vollmeyer from limehome, Patrick Häde from Mapify, Julian Persaud from Omio, Julian Weselek and Julian Stiefel from TOURLANE!
The Teralytics analysis has shown that the mobility in the time of COVID-19 has different realities across Europe. In Germany, the overall mobility slowed down by minus 37 percent in March 2020, in Italy it slowed down nearly twice as much, with overall mobility down by 70 percent, but we have also seen a much swifter recovery of this. Ireland's overall mobility went down by 57 percent but recovers much slower than Germany and Italy.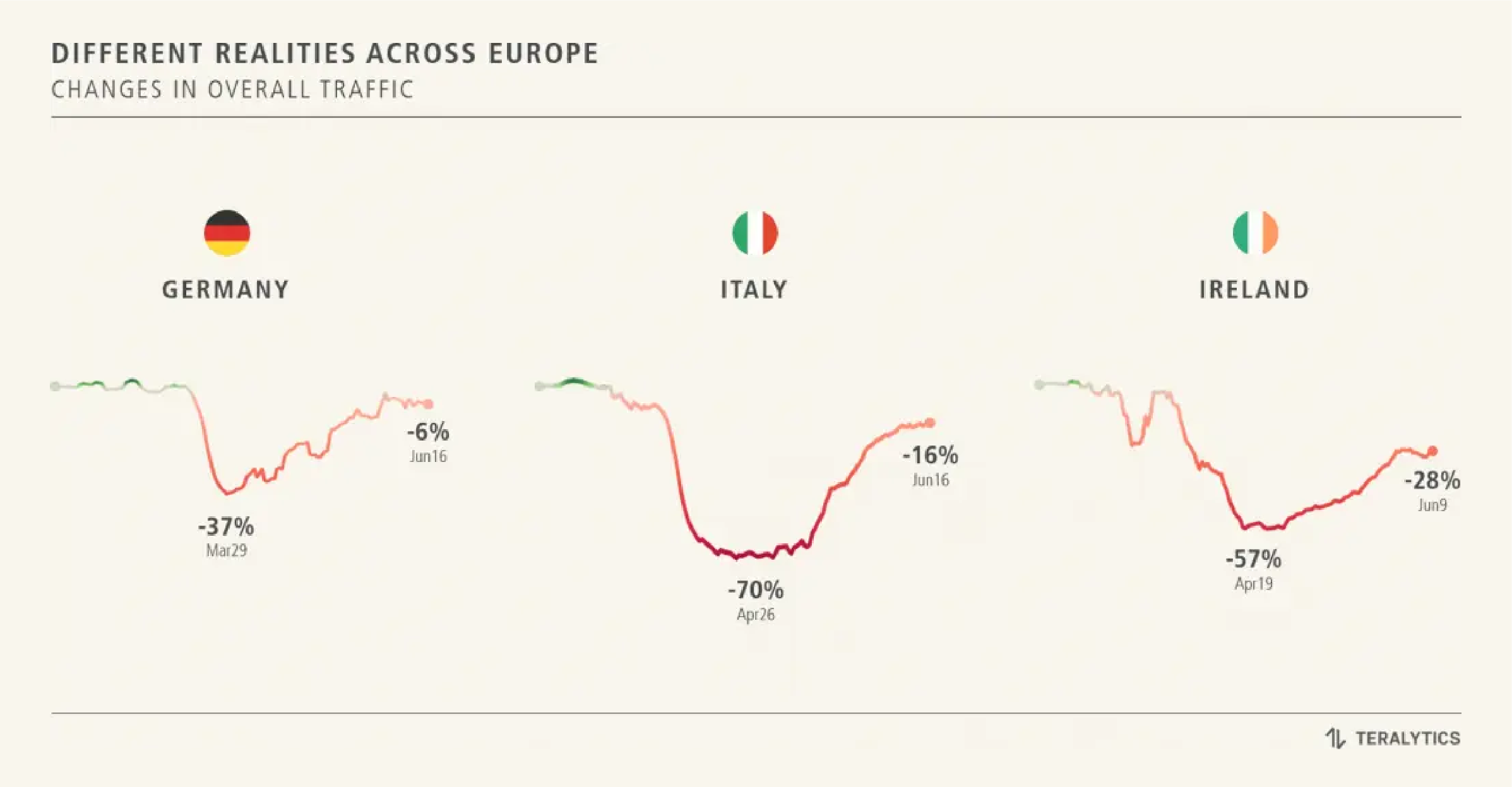 Another finding that is particularly relevant for the travel tech scene is the comparison between how people are traveling. Overall, car traffic is growing, while air travel remains very low. This might also be the reason why domestic tourist destinations are facing a very strong recovery.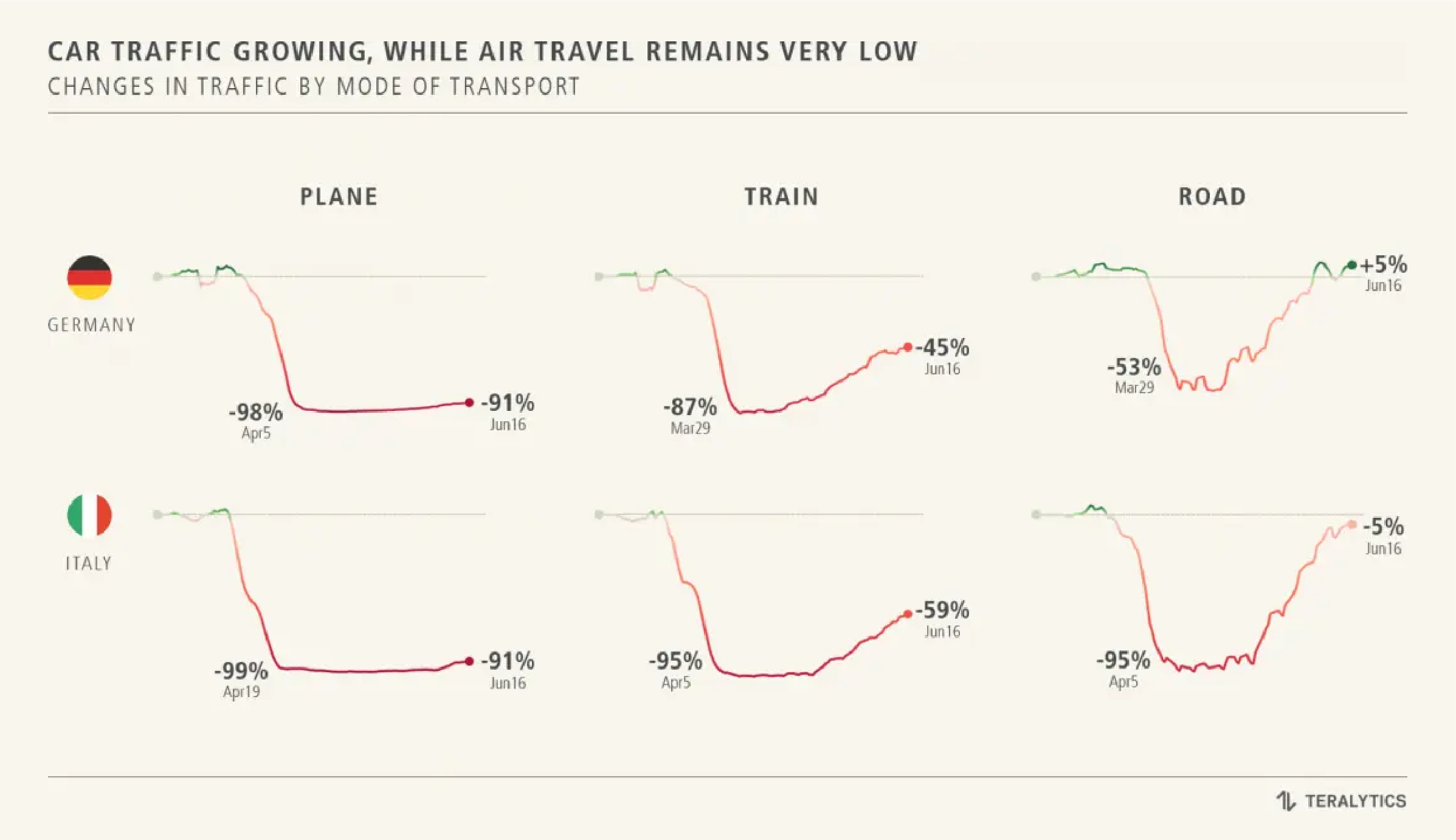 Analysing these findings offers a data backed indication of how mobility and travel will develop in the short-term as well as how this is affecting the way we travel and our corresponding habits. These results are an important building block for travel tech companies to plan their recovery strategies and product development.
Take a look at the real-time mobility maps here: https://mobility-covid19.teralytics.net