Founders' Stories|
The AI-Powered search and matchmaker between companies and suppliers
Sourcing suppliers can be a complex procedure for industries such as manufacturing and processing, often requiring tedious manual processes to connect the right companies from across the globe. Yet in a digital era, it should surely be possible to speed up supplier discovery so that procurement leaders can find new suppliers for innovative products and improve time to market. For suppliers, this could broaden opportunities to identify new buyers for products that could increase revenues and growth.
FABIAN HEINRICH, GREGOR STÜHLER AND LEE GALBRAITH, CO-FOUNDERS, SCOUTBEE

One entrepreneur who has experienced the challenges involved in supplier discovery is Gregor Stühler, a German computer scientist who had become a project engineer in electrical engineering for a heavy manufacturing company called Wittenstein. His responsibilities included managing the company's supply chain, but it was difficult to find innovative suppliers because there was little data that could answer important questions like whether they were trustworthy and if they could supply the parts needed. Such questions had to be answered by referee search, making contacts with many other businesses and visiting huge numbers of potential suppliers.
But when in 2010, China temporarily closed exports to Japan of the rare earths that are used to make the company's powerful magnets, prices rose enormously. To make matters worse, the 2011 tsunami then struck in Japan, wiping out 50 per cent of the company's supply chain. Wittenstein started research to find alternatives using the existing methods, but these were not working out. Gregor believed that the solution would be to use data to find alternatives, and it quickly became obvious that this could greatly reduce the number of alternative suppliers to 15 or 20 which made searching 300–400 times faster.
'I founded scoutbee in 2015 with Lee Galbraith who had experienced the difficulties for retailers in sourcing simple items such as bags for bread. At first Lee and I were a two-man consultancy show, using the data to advise companies like Nestlé, Danone and L'Oréal, but we quickly realised that this approach would be hard to scale up without a software solution.
'So we built a software as a service suite by early 2016, which was the first time we had a product and we pitched it to Audi as our first customer. We closed our first contract with them in 2017 and they were able to raise a EUR250,000 angel investment from VW, their owner. This enabled us to hire two employees in Würzburg in Bavaria where I lived and two remote developers, and with those we built the solution that Audi wanted within six months.
Big Data driven market analysis and scouting on a platform
We were paid, but we were making little revenue, says Fabian Heinrich, who had experience of scaling-up companies internationally and became the third Co-Founder. 'We realised in summer 2018 that the data-driven solution was only a part of the answer. What we needed to do was take the revolutionary step of digitising the data, which could capture much greater amounts of it. We designed Streamline, a platform solution which enabled us to search continuously for supplier information using AI and Big Data.'
Since then, the company has scraped 400 million company websites around the world to build its platform solution. 'But the aim was not to build an enormous website which would be extremely expensive,' says Gregor. 'Our challenge was to create algorithms and models that could determine whether a website was relevant for our searches. Even today, we scrape websites that do not add any meaningful value to our system, so we have a deep learning process which determines whether they are for a manufacturer or a publisher – and only the manufacturers are retained on our database which keeps our costs down.
'Any personal data is deleted and not stored because the EU's GDPR rules protect data and privacy, in particular through regulations governing the international transfer of personal data. To meet our clients' supplier needs, we identify companies which can supply them, but don't bring them together until the client decides to use them. If they do decide to do so, we introduce them – effectively operating as a matchmaking service.'
Scoutbee's very first office was the flat of Lee Galbraith who had moved from Northern Ireland to a small town near Würzburg where Gregor lived. The object was to save money, but while the two founders thought about moving to the bigger cities of Berlin or Hamburg, they realised that their clients would prefer personal contact closer to their factories. Luckily there are some big companies close to Würzburg, such as Bosch and other manufacturing hotspots in Baden-Württemberg.
Today, scoutbee is also operating in Berlin, where it has grown rapidly from three people working at home a year ago to 50 today housed in two offices and headed up by Fabian. 'We need the tech talent that is here in Berlin,' he says, 'and if we need more, we can relocate talent from all around the world to Berlin which is seen as a desirable place to live.' The company has also opened a US office under Lee Galbraith in Arlington, Virginia outside Washington DC. Gregor remains in Würtzburg.
The company now has 92 different clients, and expects that to have risen to more the 200 by the end of 2020. It is heavily focused on the German-speaking market for the automotive and manufacturing industries, and is soon to open a Zürich office in Switzerland where it sees opportunities in the country's big life sciences and chemical companies. The company is also expanding in other European countries such as The Netherlands where clients include Unilever and Philips.
After entering the US market, scoutbee is hoping to add software to the list of industries it finds suppliers for. As for industries such as luxuries and finance which are increasingly searching for suppliers that focus on traceability and environmental, social and governance (ESG) issues, the company has yet to incorporate such criteria in its searches. However, with increasing interest in ESG among large US finance companies and their top executives, it will be incorporating it into its searches in the future.
There are 125 people in the scoutbee team, rising to 220 by the end of 2020, depending on the company's efficiency and growth plans. 'From the beginning, we have been a very lean business,' says Fabian, 'and we are keen to remain so. The biggest challenge we face is to find the talent that we need and to develop it. But we are really blessed with the people we attract and retain – probably because we are doing something really disruptive in creating an interesting new digital industry.'
The founders say that Lakestar has added great value to its business since joining the other venture capital backers behind scoutbee. 'It has an amazing network,' says Gregor, 'and the exchanges with other serial founders and their portfolio companies help us to avoid the mistakes of other entrepreneurs. It feels like being part of a family.'
Asked how they came up with the company's name, Gregor says that after dreaming up lots of names they decided to focus on scouting for suppliers rather than just sourcing them. 'Scoutbees do an important job in their beehives, flying out every morning to find the best honey suppliers and flying back to tell all the others in the beehive. There are very few of them, and they really specialise in scouting – which is how we would like to be known!'
And that is what scoutbee has been doing to support NGOs and medical organisations to help them source critical materials needed for the coronavirus crisis in order to replace traditional sources of supplies which are essential for curbing the pandemic's advance but have become unavailable.
How Scoutbee helped during the Covid-19 crisis
The spread of coronavirus (Covid-19) has become a huge stress test for global supply chains. Our technology can help organisations around the world find new sources of supply when existing sources become unavailable. Scoutbee has more than 9.5 million supplier profiles across categories, can optimise costs at a time when market demands are forcing up prices and is able to deal with rapid and unpredictable regulatory changes.
Scoutbee is supporting NGOs, governments and companies which have urgent sourcing needs for medical equipment and supplies. Our AI-powered sourcing platform can improve supplier visibility by combining financial data, macro-economic data and market research to aid faster decision-making in a crisis.
Three examples illustrate our prompt response during the coronavirus crisis: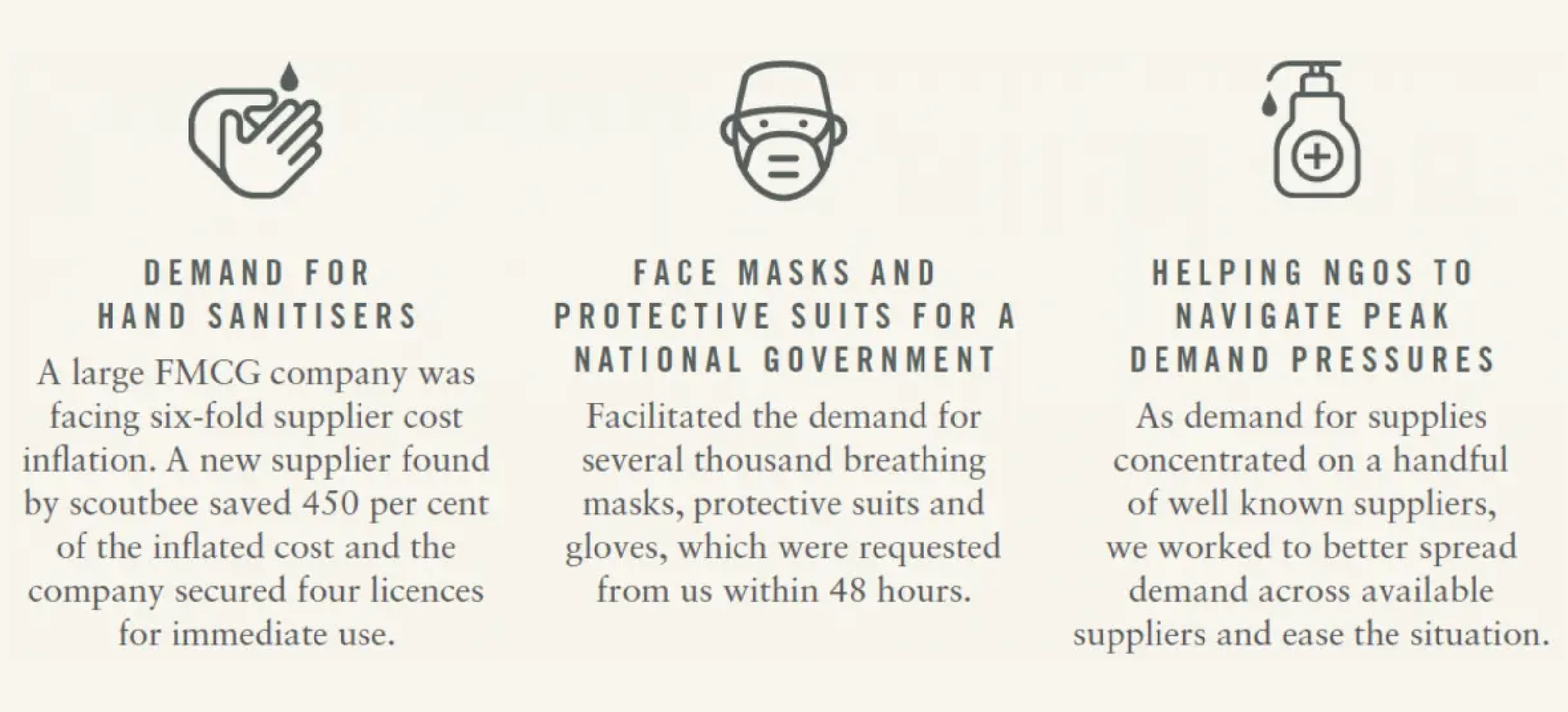 In late March 2020, we launched a free Covid-19 supply support service for organisations struggling to source urgently needed supplies which can request scoutbee's AI-powered supplier search to significantly speed up the process during April.
Full details of the service at https://scoutbee.com/coronavir...